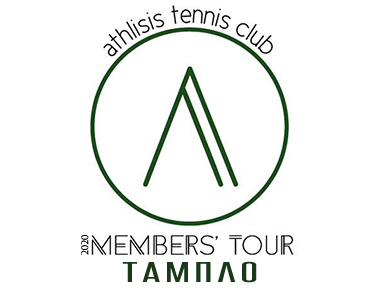 With the participation 60 about members of adult schools started on Saturday 4 July the internal tournament of our academy under the name "ATC MEMBERS TOUR 2020".
Below you can see how the dashboards and results have been configured.
We thank the members of the adult schools for participation and support to another organization of Athlisis Tennis Club . Have fun!
DIVISION 1 – Men
Open
32
FINAL
SKOURAS THODORIS

2

KOLIVANIS MICHAEL

0

61 61

FINAL
DIAMANTIS ARMY

2

FAKLARIS GEORGE

0

64 64

FINAL
GEORGAKOPOULOS DIMITRIS

1

Christos Panagiotopoulos

2

57 64 10-5

FINAL
ASIMAKOS KOSTAS

1

GIANNAKOPOULOS DIMITRIS

2

60 26 10-4

FINAL
ANTONOPOULOS NICK

2

CAPTAIN TAKIS

0

60 60

FINAL
GOUVERIS GIORGOS

0

VYRLOS PETROS

2

62 63

FINAL
KARKALATOS ANDREAS

2

KOUTALIDIS GREGORY

0

61 75

FINAL
BOURIS FANIS
SPYRAKIS GIORGOS
w.o.

FINAL
KEFALONITIS NIKIFOROS

1

EXADAKTYLOS PAUL

2

76(2) 67(7) 10-7

FINAL
ANTONAKOS LEFTERIS

0

SIATERLIS KYRIAKOS

2

61 60

FINAL
TSOURDINIS PANAGIOTIS

1

ANGELOPOULOS VASILIS

2

57 60 11-9

FINAL
FASOULIS IOSIF

0

NTOULIAS DIMITRIS

2

06 06

FINAL
KONTOS MICHAEL

2

DAVILAS ILIAS

0

62 63

FINAL
KARMPERIS NICK
ANTONAKOS ANGELOS
Where

FINAL
HATZIPAPPAS VAIOS

0

CHRYSOPOULOS GIOTSA

2

64 63

FINAL
DIAMANTIDIS GEORGE

0

KALLIANOS GEORGE

2

61 60
16
FINAL
SKOURAS THODORIS

2

DIAMANTIS

0

61 64

FINAL
PANAGIOTOPOULOS

0

GIANNAKOPOULOS

2

16 36

FINAL
ANTONOPOULOS

2

ΒΥΡΛΟΣ

1

26 60 10-5

FINAL
ΚΑΡΚΑΛΑΤΟΣ

0

SPYRAKIS GIORGOS

2

57 46

FINAL
SIX

2

ΣΙΑΤΕΡΛΗΣ

0

76(4) 62

FINAL
ANGELOPOULOS

0

NTOULIAS DIMITRIS

2

06 06

FINAL
SHORT

2

KARMPERIS NICK

0

60 62

FINAL
CHRYSOPOULOS

0

ΚΑΛΛΙΑΝΟΣ

2

16 06
8
FINAL
SKOURAS THODORIS

2

GIANNAKOPOULOS

0

61 64

FINAL
ANTONOPOULOS

1

SPYRAKIS GIORGOS

2

60 26 4-10

FINAL
SIX

0

NTOULIAS DIMITRIS

2

46 46
4
FINAL
SKOURAS THODORIS
SPYRAKIS GIORGOS
DIVISION 2 – Men
Open
32
FINAL
Christos Panagiotopoulos
bye

FINAL
TZIAFAS GEORGE

2

HATZIPAPPAS VAIOS

0

63 63

FINAL
POULOS ANDREAS

0

BOURIS FANIS

2

60 63

FINAL
ANTONAKOS LEFTERIS
bye

FINAL
bye
ΚΑΧΡΙΜΑΝΗΣ ΓΙΩΡΓΟΣ

FINAL
ANGELOPOULOS VASILIS
bye

FINAL
KOLIVANIS MICHAEL

2

LIVADITIS ANGELOS

1

36 64 10-4

FINAL
TSOURDINIS PANAGIOTIS

0

ANTONAKOS ANGELOS

2

60 63

FINAL
bye
CHRYSOPOULOS GIOTSA

FINAL
KOUKOPOULOS THANASIS

1

ΚΑΧΡΙΜΑΝΗΣ ΑΝΔΡΙΑΝΟΣ

2

62 57 4-10

FINAL
bye
DIAMANTIDIS GEORGE
16
FINAL
PANAGIOTOPOULOS

1

ΤΖΙΑΦΑΣ

2

46 64 10-4

FINAL
ΦΑΣΟΥΛΗΣ

0

CAPTAIN

2

61 63

FINAL
ΦΑΚΛΑΡΗΣ

1

BOURIS

2

64 26 10-6

FINAL
ΑΝΤΩΝΑΚΟΣ

0

ΚΑΧΡΙΜΑΝΗΣ

2

16 16

FINAL
ANGELOPOULOS

1

ΚΟΛΙΒΑΝΗΣ

2

75 26 10-6

FINAL
ΑΝΤΩΝΑΚΟΣ

0

CHRYSOPOULOS

2

46 46

FINAL
ΚΑΡΜΠΕΡΗΣ

2

BOURIS

1

61 46 11-9

FINAL
ΚΑΧΡΙΜΑΝΗΣ ΑΝΔΡ.

0

DIAMANTIDIS

2

16 06
8
FINAL
ΤΖΙΑΦΑΣ

2

CAPTAIN

0

60 60

FINAL
BOURIS

2

ΚΑΧΡΙΜΑΝΗΣ

1

26 60 10-8

FINAL
ΚΟΛΙΒΑΝΗΣ

2

CHRYSOPOULOS

1

36 76(5) 10-8

FINAL
ΚΑΡΜΠΕΡΗΣ

0

DIAMANTIDIS

2

67(5) 06
4
FINAL
ΤΖΙΑΦΑΣ

2

BOURIS

1

62 46 10-8

FINAL
ΚΟΛΙΒΑΝΗΣ

0

DIAMANTIDIS

2

36 67(5)
DIVISION Women
Open
16
FINAL
bye
PAPANIKOLAOU ROYAL

FINAL
ANGELESKOU SIMONA
bye

FINAL
Kougias GINA

0

Pomaks ANGELIKI

2

61 60
8
FINAL
ANTONAKOY

2

ΝΤΑΓΚΙΝΗ

0

63 61

FINAL
ΜΠΟΓΡΗ

2

PAPANIKOLAOU

1

64 46 10-6

FINAL
ΑΓΓΕΛΕΣΚΟΥ

2

ΝΙΚΟΛΑΟΥ

0

61 63
4
FINAL
ANTONAKOY

2

ΜΠΟΓΡΗ

1

36 63 10-2

FINAL
ΑΓΓΕΛΕΣΚΟΥ

0

SOY

2

36 36
FINAL
FINAL
ANTONAKOY

2

SOY

0

64 75